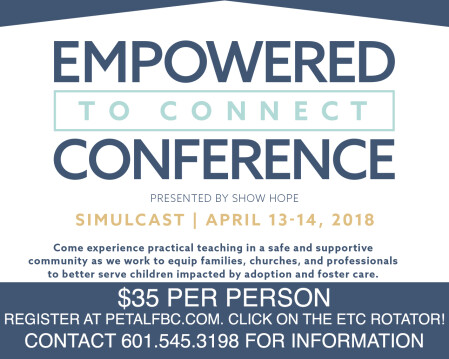 Join us April 13-14 for the Empowered to Connect Conference - LIVE SIMULCAST from 9AM-5PM both days, hosted at Petal First Baptist Church. Light refreshments will be provided during breaks. There will be an "on your own" lunch break from 12-1:30 PM. All participants are highly encouraged to attend sessions BOTH days.
Professionals may be eligible to receive continuing education credit. Each​ ​professional​ ​interested​ ​in​ ​receiving​ ​hours​ ​and​ ​a​ ​professional​ ​certificate​ ​is​ ​required​ ​to register​ ​and​ ​pay​ ​a​ ​separate​ ​fee​ ​at​​ ​​www.etccontinuingeducation2018.eventbrite.com.
Ticket cost is $35 - includes refreshments and study guide. Call the church office at 601-545-3198 with questions.
Register below! Pay online at http://petalfbc.com/online-giving/ and choose Woven Orphan Care in the drop-down box. The cost is $35 per person.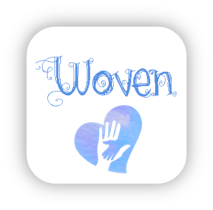 The Woven Foster/Adoptive Network of Petal FBC is a faith-based foster/adoptive support group. Ultimately our goal is to provide spiritual, emotional, and physical support to families God has chosen to be foster or adoptive parents. We believe that in order for foster/adoptive families to be the best they can be, they need support in all those areas. We want to provide current foster parents, future foster parents, those who may be thinking about fostering/adopting, and those who strictly want to offer support, an opportunity to get education about foster/adopting and meet people who are walking the same journey.